Advanced Skin Needling System
The New Generation of Skin Needling

Pro-Stamp® is the most advanced skin needling system in the world and is fast becoming the industry leader in skin rejuvenation.
Pro-Stamp® skin needling system has a unique stamping technology which means the needles are stamped into the skin at a vertical insertion rather than dragged across the skin, therefore providing a safer, less-invasive skin needling treatment with minimal downtime and for superior results…
The disposable needle devices have micro-fine, medical grade stainless steel needles, which create the stimulation of new collagen production within the skin via the wound healing response.
The stamping action of Pro-Stamp®'s vertical needle tip creates micro-trauma within the skin which resets and reboots cellular function, resulting in natural and highly effective skin rejuvenation.
Pro-Stamp® effectively treats fine lines, wrinkles, scarring, stretchmarks, pigmentation, cellulite and more.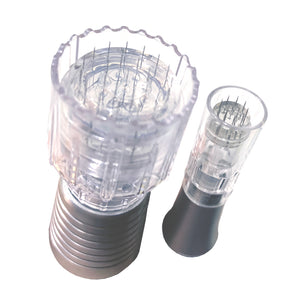 Needle Device Technology
• Medical grade stainless steel needles
• Micro-fine 0.2mm needle gage
• Two needle device options: 16 pin and 24 pin
• Adjustable needle depth for controlled treatment between 0.1mm to 1mm
• Unique wave pattern on crown of device to allow free flow of product while needling
• Needles are strategically spaced to reduce trauma and assist faster healing and downtime
• Anti-backflow membrane for hygiene and safety
• Unique airflow technology to prevent cross contamination
• Safety cap for safe handling once removed
Battery Powered
• Powerful 3-speed cordless battery-operated system
• Light-weight aluminium handpiece which has a hard anodised coating for medical hygiene standards
• Rechargeable lithium batteries which allow up to 1 hour working time
• 12V battery charger
Points of Difference
• The Pro-Stamp® has a powerful 12V, 3 speed handpiece which delivers thousands more needle perforations per stamp.
• Pro-Stamp® is a battery powered, cordless device allowing technicians to work efficiently and with ease.
• The difference is that this system delivers vertical insertion of needles at a powerful 12V, so no dragging of needles causing micro tearing of the skin.
• Significantly reduces trauma making skin rejuvenation safe and natural with faster healing time.
• Pro-Stamp® is for professional use only.
• The Pro-Stamp® system will help your business to have a point of difference, as this is the only skin needling system of its kind.
• Pro-Stamp® has a skincare range to support your treatments.
• Efficient procedure times to help generate more income.
• Offer skin rejuvenation treatments for all areas of the face and body.
Shipping & Supply
to Australia & New Zealand
Ongoing Support
for technicians